Editors Note: This series of posts was taken from Sir Dave's WORLDWIDE Forum on Sunday, June 19, 2005.

Thanks, Sir Dave!
You're the ***BEST*** even though you're just a bunch of meaningless zeroes and ones.
But nobody's perfect.



Don't forget to rate this post down below!

Help Needed
Posted by:
maybe the pesky premie
Date:
06/17/2005, 23:59:36
Could some one sort out the confusion on Forum 8.
First it was complaints that tickets to the Miami event were too expensive and then some argued that they were too cheap.
Perhaps this is why they offered both cheap and expensive seats, so that every one would be satisfied.
Or in ex-premies case, all dissatisfied.
Now they're complaining that buying or selling second hand books is wrong.
Does that also apply to second hand clothes, furniture, cars etc?
If you can't afford to buy new, then you shouldn't have it.
I think exes would do more harm to Maharaji if they shut Forum 8.
Anyone who finds it must doubt the sanity of the majority of posters.
Prediction.
M will conduct more events where money is donated to charities like the UN Food Fund and as the tens of thousands of people around who watch Maharaji on free to air satellite and cable networks filter through to live events, he will be able to donate huge sums of money to worthwhile causes.
Of course, exes can complain that 30 years ago he said he would bring peace to the world, but more and more people will come to the conclusion that that is exactly what he is doing.

Here's some help
Posted by:
Sir Dave
Date:
06/18/2005, 13:11:24
The Maharaja's PR campaign (for that's what it is) is just a drop in the ocean. The big hitters are people like Bob Geldof and Bono. Now for The Maharaja to have any real impact he'd have to become world famous, like a household name and be open to scrutiny.
I can't see him doing that.
Too Late Sir Dave
Posted by:
maybe the pesky premie
Date:
06/19/2005, 03:48:41
M is fast becoming a household name and, like Bono and Sir Bob, people will scrutinize his whole life.
And as with Bono and Sir Bob, people will excuse the pecadillos and excesses of youth and focus on what he's doing now.
Only extremist exes get outraged at Maharaji, most people see the whole picture and certainly pay very little attention to the sort of selective and unsubstantiated gossip that exes revel in.
Have a look at Forum 8.
Get a grip...
Posted by:
Dermot
Date:
06/19/2005, 03:48:41
Becoming a household name? He'll need a quite a few more burger trailers chugging around the planet before he's even on the periphery of public attention.
As for your " people will scrutinize his life". I take it you think that outside his stage show, fake journo puff pieces and outright EV propaganda/deception/ lying he'd also welcome genuine scrutiny? Don't tell me ....I know the answer ....you'll say he'd welcome it.
Unbelievable....the extent personality cultism continues to delude the already deluded.
Planet earth here…..do you read me, Maybe?…..come back to earth …Maybe, do you read me?….earth calling…..
Nope. Gone.
Get a grip...Dermot Don't confuse the poor pwk with facts!!!!
Posted by:
Harry
Date:
06/19/2005, 03:48:41
From the Trailer.org
| | |
| --- | --- |
| Posted by: | Trailer Trash |
| Date: | 06/19/2005, 03:48:41 |
| Original URL: | Click here (However, the link may be stale.) |
The following comes from www.thetrailer.org which is a UK premie project to help Maharaji spread his message of peace.
To see this message click the Progress menubar and in the Forum goto Trailer News and Messages

We bought the first trailer!
We bought the first trailer!
Posted: 7:36:56 pm on 1/19/2005 Modified: 10:42:44 pm on 2/22/2005

Keef (the spaceman photographed with Joe Lee below) came across a great deal on a second hand trailer in darkest Deptford. It needs work before it can be fitted out with screens, PAs etc and we may even change the cabin from the existing eight foot length to a twelve footer but it's a solid investment and tows really well. Worth in the region of £2,500 we picked it up for £400!
Hopefully we can start renovations and customising in early February.
Treat the following as the 'before' pictures!
Anyone for a Burger?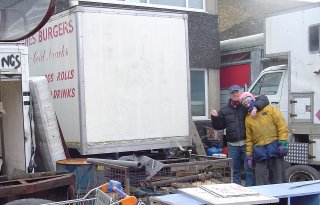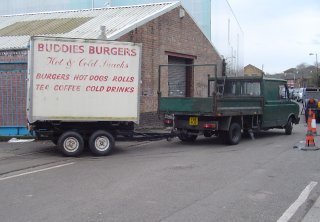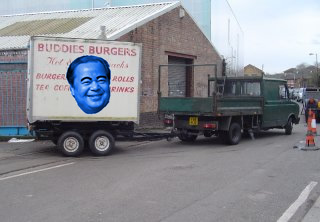 Prem Rawat's House of Maharaji Drek
Quirky Trivia Relating to Maharaji
Send your submissions, comments, and ideas to

[email protected]


All Rights Reserved - Legal Terms - Copyright 1999 - 2020
Not responsible for content opened on external sites